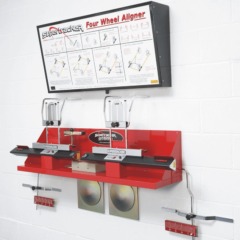 4 Wheel Alignment Super Tracker £25
Wheel alignment, or tracking, is the process of ensuring your vehicle's wheels are set to the optimum position, as per the car manufacturer's specifications.
Incorrect alignment can result in rapid irregular tyre wear and can even affect the handling and safety of the vehicle.
Wheel alignment problems can be caused by hitting a kerb, driving into a pothole in the road or by excessive wear to steering or suspension components. It is important to get your wheel alignment checked annually to ensure you get the most out of your tyres.
Keep an eye out for unusual wear on your tyres, such as premature wear on the inside or outside shoulder, which could be a sign of incorrect alignment.
SUPER TRACKER IS OUR IN HOUSE MACHINE
With the ability to measure toe and thrust angle as standard, this laser half cab can also be upgraded to measure Camber and Castor with use of a Digital Camber Castor Gauge. Designed and built in the UK, our laser aligners have proven to stand the test of time with units first made in 1992, still being serviced today.
FEATURES:
Rechargeable, cable free heads
Positive gravity wheel hangers – Quick and simple fixing to the wheel
Wheel hangers & measuring heads calibrated as a unit
Perfect wheel rim contact
Toe scales can be read from above and below the heads
Fits 12" to 24" wheels